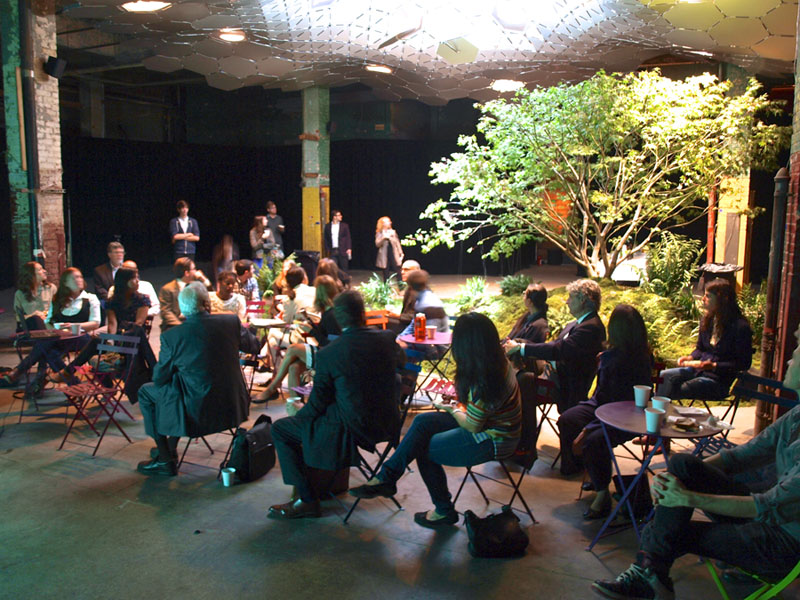 In September, the fellows of the Forum gathered to debate the viability of the Low Line, a proposed underground park underneath Delancey Street on New York's Lower East Side. The pair behind the park, James Ramsey and Dan Barasch, are exhibiting a prototype of a new technology that filters light from the surface underground, enabling plant life and possibly even an outdoor experience.
The duo was joined by Jamie Springer, Partner of HR&A Advisors, the firm that studied the park's feasibility. How could the project pay for itself? Public funding and philanthropy alone would not suffice; concessions, partnerships with cultural and community organizations, rentals, and festivals would have to aid in the maintenance of the space. And how would this park, one acre in size, accommodate this mixture of programs?
Fellows agreed that a diverse set of programs would be necessary, but implored the design team to retain their earliest notions of an underground garden as the project moves forward. What would a park, inspired by its underground environs, look like? How would they overcome the challenges of maintaining the subterranean space, like supplying fresh air and enough light for a park to thrive? And how would they confront the challenges of the complex ownership of the site; will city officials push this project forward, or will it remain a grassroots initiative?
SPEAKERS
DAN BARASCH
Co-Founder, Delancey Underground
Dan Barasch is Co-Founder of the Delancey Underground. Prior to his work with the Delancey Underground, Mr. Barasch worked with PopTech, City of New York, Google, UNICEF, 9/11 Survivor's Fund, and the World Affairs Council.

JAMES RAMSEY
Principal, RAAD Studio and Co-Founder, Delancey Underground
James Ramsey is a co-founder of the Delancey Underground and principal of RAAD, a New York-based design practice. Prior to his work with RAAD, Mr. Ramsey worked with NASA, DMSAS and Penny Yates Architects. RAAD has since built over a hundred projects across the country.

JAMIE SPRINGER
Partner, HR&A Advisors
Jamie Springer is a Partner of HR&A Advisors, where he provides urban infrastructure planning and implementation services for cities across the United States and Canada. Prior to joining HR&A in 2006, he was Project Director for the Brooklyn Bridge Park Development Corporation.
PHOTOS