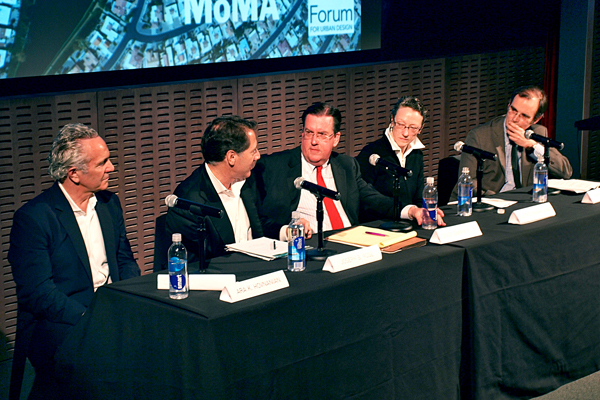 On March 8, the Forum for Urban Design and the Museum of Modern Art, with generous support by the Lincoln Institute of Land Policy, gathered a national homebuilder, a former NYC City Planning Director turned suburban developer, a prominent Phoenix advocate, and a leading New Urbanist to debate the proposals put forth in the MoMA exhibition, Foreclosed: Rehousing the American Dream.
Ara Hovnanian set the stage by exploring his own company's strategy for adapting new homes to a post-crisis reality: by building multi-generational, multi-household homes for boomerang children, aging parents, and older siblings. Joe Rose followed, arguing the Buell Hypothesis of "Change the dream and you change the city" might be better adapted to "Respect the dream and you change the city," suggesting that dismissing the suburban dream would never lead to a suburban makeover.
Grady Gammage Jr. was quick to defend the single-family home, the dominant housing typology in his hometown of Phoenix, Arizona. He argued that instead of the radical proposed changes embedded in the Foreclosed exhibition, that a denser housing types would have to be built more incrementally. Ellen Dunham-Jones had her own take on the Buell Hypothesis, suggesting instead "Change the regulations and you change the city." She argued that a reanimated New Urbanist agenda would tackle the glut of regulations preventing dense housing typologies and encourage new ways of thinking.
Forum fellows and guests tackled homeownership subsidy programs, the challenge of the automobile in future developments, and re-conceptualizations of the suburban "American Dream." Although there was a resounding sense that the Museum had accomplished what it had set out to do—to provide bold design visions to revive existing suburbs—both panelists and fellows argued for reconsidering existing regulations, rather than design, for a genuine suburban retrofit.
---
SPEAKERS
ARA K. HOVNANIAN
President & CEO, Hovnanian Enterprises
Ara K. Hovnanian is Chair, President, and CEO of Hovnanian Enterprises, Inc., a nationally recognized homebuilder building single-family and multi-family housing in seventeen states across the country. Hovnanian Enterprises is the country's sixth-largest homebuilder and is listed on the New York Stock Exchange.
JOSEPH B. ROSE
Partner, The Georgetown Group
Joseph Rose is a partner in The Georgetown Company, a real estate development firm with office, residential and recreational properties across the country, including the award-winning planned communities of Easton and New Albany in Columbus, Ohio. He previously served as Chairman of the NYC Planning Commission and Director of the Department of City Planning.
GRADY GAMMAGE, JR.
Partner, Gammage & Burnham
Grady Gammage, Jr. is a lawyer representing real estate projects from master planned communities to sprawling subdivisions to high rise buildings and urban mixed use development. He has also developed a widely acclaimed urban mixed use project in Tempe, Arizona. He is a Senior Fellow at Arizona State University's Morrison Institute.
ELLEN DUNHAM-JONES
Professor of Architecture, Georgia Institute of Technology
Ellen Dunham-Jones, AIA, is an award-winning architect and a board member of the Congress for the New Urbanism. She teaches about architecture and urbanism at the Georgia Institute of Technology and is the co-author of Retrofitting Suburbia: Urban Design Solutions for Redesigning Suburbs.
BARRY BERGDOLL (Moderator)
Philip Johnson Chief Curator of Architecture + Design, Museum of Modern Art
Barry Bergdoll is the Philip Johnson Chief Curator of Architecture + Design at the Museum of Modern Art. He is Professor of Architectural History at Columbia University. During his tenure as Chief Curator, he has organized acclaimed exhibitions as Rising Currents, Mies in Berlin, and 194X-9/11: American Architects and the City.
---
VIDEOS
Please contact web@ffud.org for video login information.
---
PHOTOS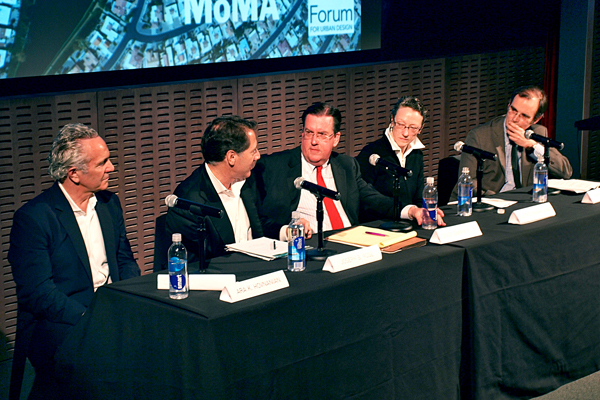 ---
TRANSCRIPT
---
SPONSORS
| | | |
| --- | --- | --- |
| | | The Lincoln Institute of Land Policy is a leading resource for key issues concerning the use, regulation, and taxation of land. Providing high-quality education and research, the Institute strives to improve public dialogue and decisions about land policy. For more information about the institute, please visit http://www.lincolninst.edu/ |
---